How Clean is Your Water?
This is a question that we all ask ourselves at some time or another. The importance of have clean water for drinking, bathing, washing dishes and our clothes is something that is important for our health and well being.
In this unprecedented time of COVID-19, we continue to keep your safety and health at the forefront – so all of us have clean water for drinking, washing our hands, and helping prevent the spread of the corona-virus.
Do you have any problems  of your Water?
Water Polluted or  Water Shortage ?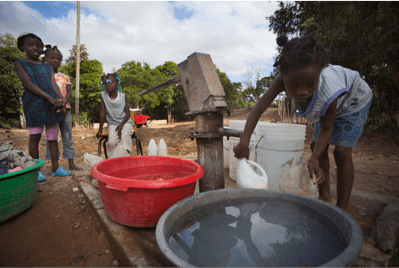 Water is life
Confronting water scarcity
Hinada always care about water and environment
Devoting all our energy to offer the satisfying solution of your clean water problem
UF Technology (Potable Water Supply System in Container Drinking Application )
Ultrafiltration (UF) is a pressure-driven purification process that separates particulate matter from soluble compounds using an ultrafine membrane media. Ultrafiltration is an excellent separation technology for desalination pretreatment, reverse osmosis pretreatment, and wastewater reclamation, as well as for producing potable water and clean water.
With over 10 years of separation-technology leadership and products in more than 1,000 ultra-filtration equipment installations worldwide, we offer a portfolio of products designed for outstanding membrane separation, extreme productivity and efficiency, and exceptional reliability.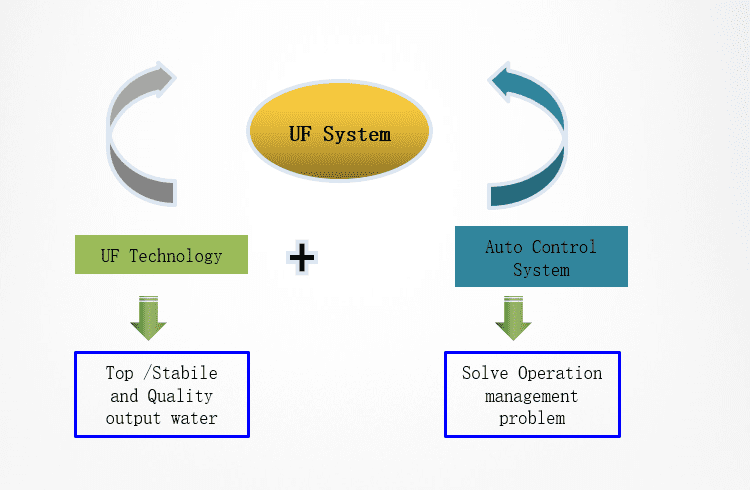 Key Feature of the UF Technology
♦  Feature 1:
Safe, affordable and sustainable Clean Water UF Technology
High quality effluent, Turbidity of output water: ≤ 0.2NTU
Suspended Matter >2um, 100% removal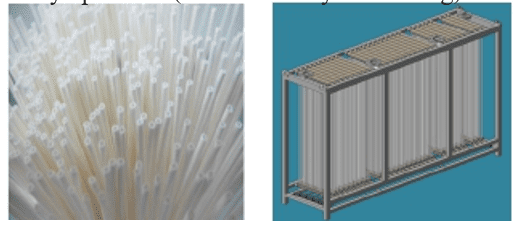 ♦  Feature 2:
Lower footprint /Space
Infrequent cleaning (Backwash 5 minutes / 3 hours; Chemical clean 1  time /Year )
Easy operation ( Automatically controlling), Easy assembly

♦  Feature 3:
Low energy cost,  power consumption around: 0.3kw / 1000Liters water
♦  Feature 4:
No dosing system, no chemicals, no pollution
♦  Feature 5:
Automatically Controlling + Touch Screen + Internet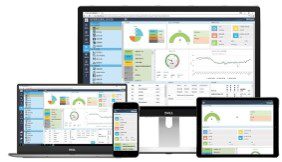 The Specification of Packaged Drinking Water System:

Further information and price please do contact with us.
UF Technology
Ultrafiltration (UF) is a separation process using membranes with pore sizes in the range of 0.01 to 0.1 micron.  Typically, UF membranes will remove high molecular-weight substances, colloidal materials, and organic and inorganic polymeric molecules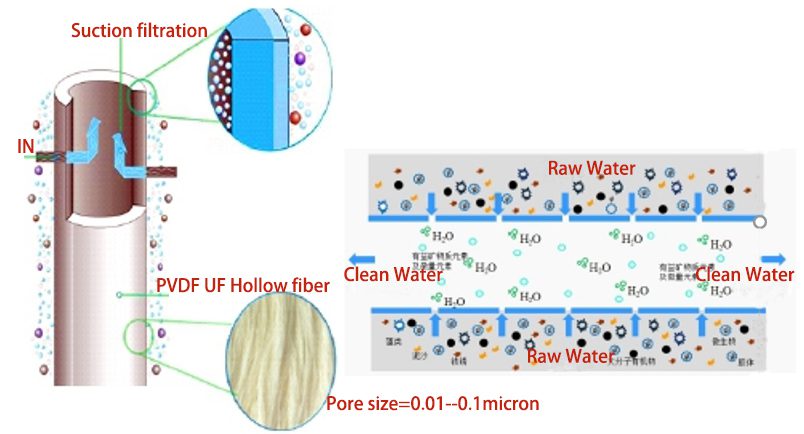 UF Application (Potable Water Supply System in Container Drinking Application )
It can be widely apply to filtration river water, underground well water, lake water for house-hold or drinking purpose.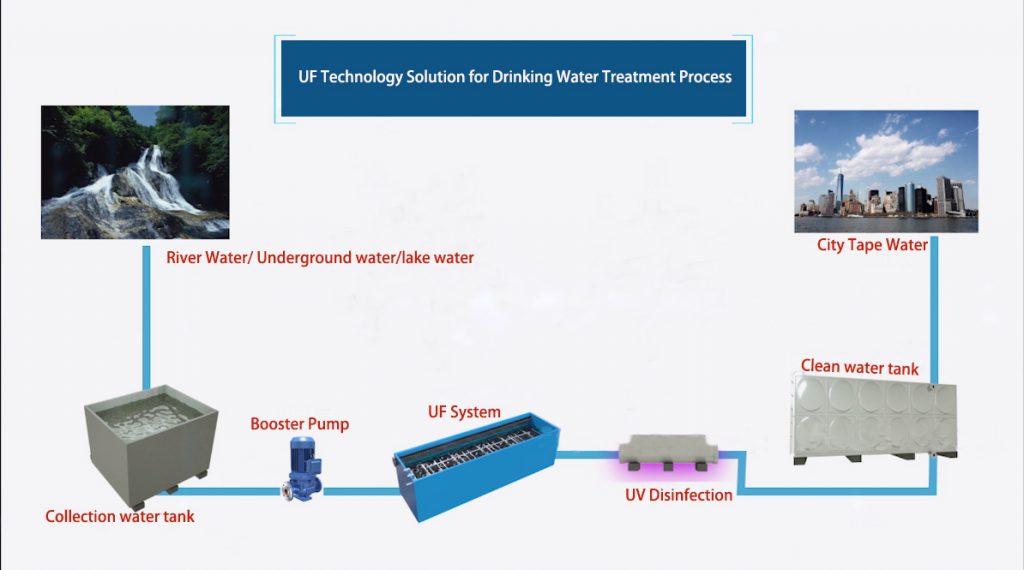 UF Technology for Drinking Water Solution:
1).   Safe, affordable and sustainable Clean Water
2).   High quality effluent, Turbidity of output water: ≤ 0.2NTU
3).   Lower footprint /Space
4).  Infrequent cleaning (Backwash 5 minutes / 3 hours; Chemical clean 1  time /Year
5).  Easy operation ( Automatically controlling)
We are the manufacturer of MBR Membrane, we can offer according to your project requirement, Hinada can offer professional solution designation, sophisticated installation, good training and efficient after-sales service according customer's requirements
 How Clean is Your Water?

This is a question that we all ask ourselves at some time or another. The importance of have clean water for drinking, bathing, washing dishes and our clothes is something that is important for our health and well being.

In this unprecedented time of COVID-19, we continue to keep your safety and health at the forefront – so all of us have clean water for drinking, washing our hands, and helping prevent the spread of the corona-virus.

Do you have any problems  of your Water?
Water Polluted or  Water Shortage ?

Water is life

Confronting water scarcity

Hinada always care about water and environment

Devoting all our energy to offer the satisfying solution of your clean water problem

UF Technology (Potable Water Supply System in Container Drinking Application )

Ultrafiltration (UF) is a pressure-driven purification process that separates particulate matter from soluble compounds using an ultrafine membrane media. Ultrafiltration is an excellent separation technology for desalination pretreatment, reverse osmosis pretreatment, and wastewater reclamation, as well as for producing potable water and clean water.

With over 10 years of separation-technology leadership and products in more than 1,000 ultra-filtration equipment installations worldwide, we offer a portfolio of products designed for outstanding membrane separation, extreme productivity and efficiency, and exceptional reliability.

Key Feature of the UF Technology

♦  Feature 1:

Safe, affordable and sustainable Clean Water UF Technology

High quality effluent, Turbidity of output water: ≤ 0.2NTU

Suspended Matter >2um, 100% removal

♦  Feature 2:

Lower footprint /Space

Infrequent cleaning (Backwash 5 minutes / 3 hours; Chemical clean 1  time /Year )

Easy operation ( Automatically controlling), Easy assembly

♦  Feature 3:

Low energy cost,  power consumption around: 0.3kw / 1000Liters water

♦  Feature 4:

No dosing system, no chemicals, no pollution

♦  Feature 5:

Automatically Controlling + Touch Screen + Internet

The Specification of Packaged Drinking Water System:

Further information and price please do contact with us.

UF Technology

Ultrafiltration (UF) is a separation process using membranes with pore sizes in the range of 0.01 to 0.1 micron.  Typically, UF membranes will remove high molecular-weight substances, colloidal materials, and organic and inorganic polymeric molecules

UF Application (Potable Water Supply System in Container Drinking Application )
It can be widely apply to filtration river water, underground well water, lake water for house-hold or drinking purpose.

UF Technology for Drinking Water Solution:

1).   Safe, affordable and sustainable Clean Water
2).   High quality effluent, Turbidity of output water: ≤ 0.2NTU
3).   Lower footprint /Space
4).  Infrequent cleaning (Backwash 5 minutes / 3 hours; Chemical clean 1  time /Year
5).  Easy operation ( Automatically controlling)

We are the manufacturer of MBR Membrane, we can offer according to your project requirement, Hinada can offer professional solution designation, sophisticated installation, good training and efficient after-sales service according customer's requirements