Hinada is a leading manufacturer of MBR Membrane Bioreactor, we are available in providing two different submerged membrane element or completely MBR module with Frame Skid. The key features of these elements and recommended applications are summarized in the Table
Type
NM-RMBR-1010
NM-RMBR-1520
Membrane
Nominal pore size (μm)
0.06 Micron (Average)
Material
PVDF, PET non-woven fabric and ABS resin
Membrane area per element (m2)
10 m2
20 m2
Membrane Element dimension
Height: 1100mm
Height: 1535mm
 Wide: 571mm
Wide: 571mm
 Thickness: 45mm
Thickness: 45mm
Filtration Method
Suction /Outside-in
Suction /Outside-in
Hollow fibers I /O diameter
1.0 /2.2 mm
 1.0 /2.2 mm
Design flow rate
100—300 Liters/ Hour

(Sewage design 150 L/H)

200—600 Liters/ Hour

(Sewage design 300 L/H)

Air diffuser
Fine bubble, tube type,

EPDM rubber

Fine bubble, tube type EPDM rubber
Recommended usage
Smaller capacity plants (<200 m3/d)

Containerized package plants

In-building wastewater reuse Marine application

Municipal & industrial wastewater

Medium and large capacity plants (>200 m3/d) Municipal & industrial wastewater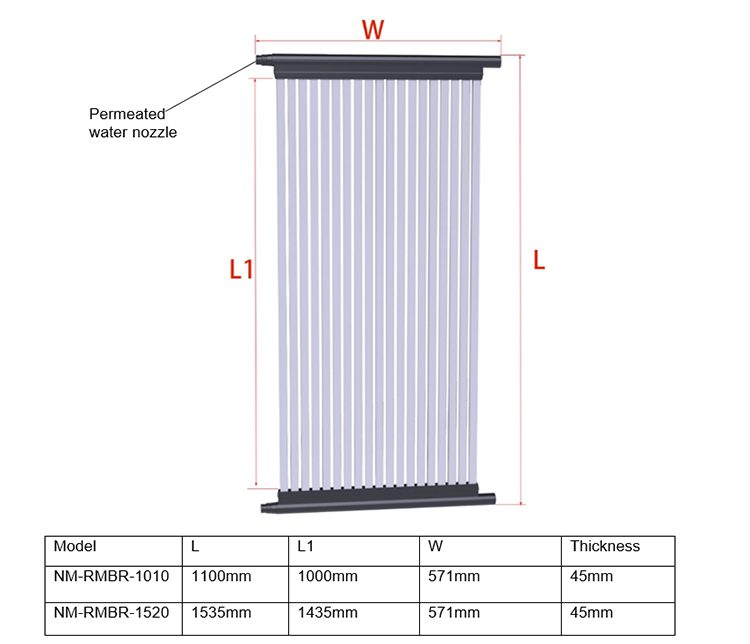 There are many advantages of MBR Membrane bioreactor: Lower energy costs, high quality effluent, lower footprint space, high flow rate,easy cleaning,easy operation and more.
Hinada can Provide high quality membrane filtration system and water treatment solution for 8 years with variety industrial application experience, based on modification of polyvinylidene fluoride (PVDF) and polyvinyl chloride (PVC ) membrane technology.
Reliably quality and reasonable price.
Hinada can offer professional solution designation, sophisticated installation, good training and efficient after-sales service according customer's requirements.
Our vast experience and drive for excellence can be put to use in your facility – quickly and easy.