How do you choose the best Potable Water Treatment System for your residential district?
Drinking water is water that is used in drink or water that our daily basic requirement or food preparation; potable water is water that is safe to be used as drinking water. The good quality of drinking water required to maintain our good health varies, and depends on physical activity level, age, health-related issues, and environmental conditions. Unfortunately,  lots of district or resident still shortage of supplying safety and clean potable water.  There are two major cause this issue, first of all no invest or build the Potable Clean Treatment System, especially in undeveloped countries;  Secondly, the drinking water treating process old or equipment lack of maintenance, typically even in developed countries, lots of all the tap water  can not meets drinking water quality standards.
The traditional potable water treating process is:



During this water treatment process, raw (untreated) water is pre-treated by dosing with chemicals and then passes to the clarifiers (Sedimentation ) for removal of relatively large particles and impurities in water. Clarified water then flows into filters for filtering out the more finely divided particles (Multimedia-Sand Filter or Activated Carbon Filter as first choose). The filtered water is disinfected (Chlorine dioxide ) before supply to the public. A small amount of residual chlorine is maintained in the water to prevent bacterial growth on the rest of its journey, but has strong chlorine smelly. This treatment process far less than safety water, for drinking, washing, bathing and more. The bacteria still be inside of the water. The turbidity of tap water also not stable especially when rainy days, the muddy water will be coming.
Common issues with potable water some dangerous contaminants, like arsenic, are not detectable by taste, smelly or sight, making testing imperative.
To ensure access to cleaner, safer water, it's important for potable water to use reliable well water filtration systems.
How do you choose the best Potable Water Treatment System for your residential district?
Hereby we introduce the advanced UF Technology in Potable Water Supply System application, Ultrafiltration (UF) is a pressure-driven purification process that separates particulate matter from soluble compounds using an ultrafine membrane. Ultrafiltration is an excellent separation technology for surface water or river or well water treatment, the permeate as producing potable water and clean water. The treatment process as below, very simple and budget the cost.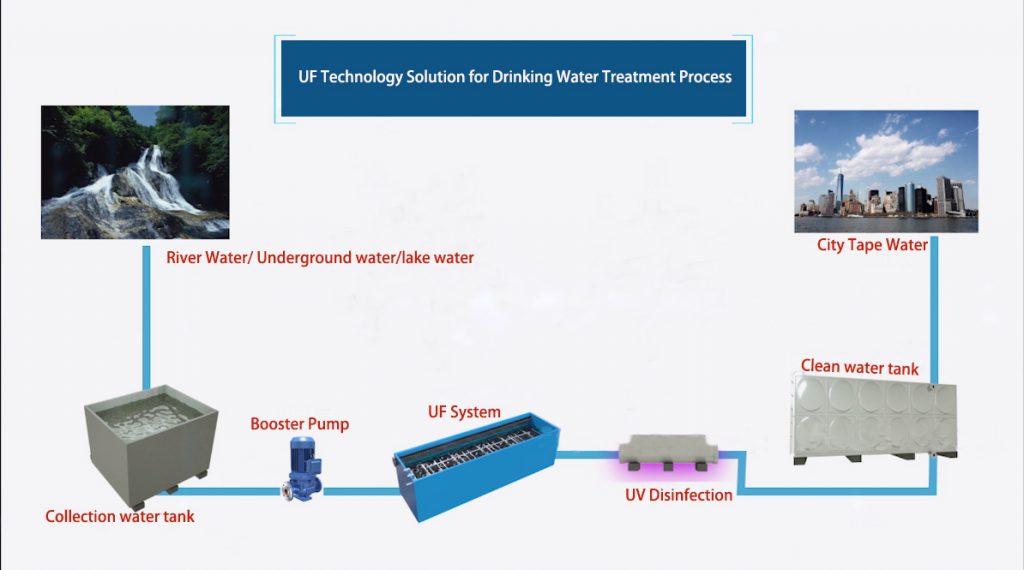 Normally just need to build one Collection water tank and one Clean Water Tank according to requirement, the UF System will be assembled in Packaged Containerized.
The video of Potable Water Treatment System as below:
Key Feature of the UF Technology
♦  Feature 1:
Safe, affordable, and sustainable Clean Water UF Technology,the cost is affordable and less compare to traditional treatment process; and the building time also short, once the packaged UF System in containerized imported, just need to connect the pipes and power wire, operate it very easily.
♦  Feature 2:
Lower footprint /Space, very small space for the clean water UF System.
Infrequent cleaning (Backwash 5 minutes / 3 hours; Chemical clean 1-time /Year)


♦  Feature 3:
Low energy cost, power consumption around: 0.2kw / 1000Liters water
♦  Feature 4:
No dosing system, no chemicals, no pollution
And more important, the ultrafiltration (UF) membranes with pore sizes in the range of 0.01 to 0.1 micron.  Typically, which will remove high molecular-weight substances, colloidal materials, and organic and inorganic polymeric molecules and bacteria.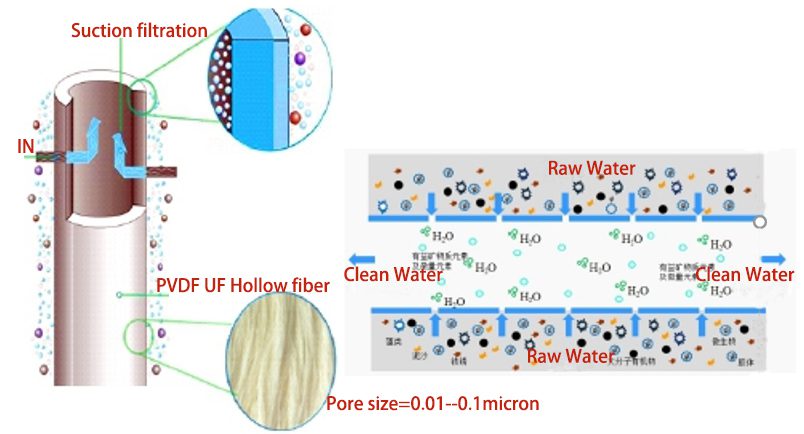 High quality effluent, Turbidity of output water: ≤ 0.2NTU
Suspended Matter >2um, 100% removal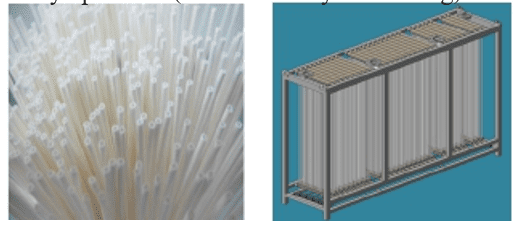 ♦  Feature 5:
Automatically Controlling + Touch Screen + Internet
Easy operation that no need people operating or watch timely, Easy assembly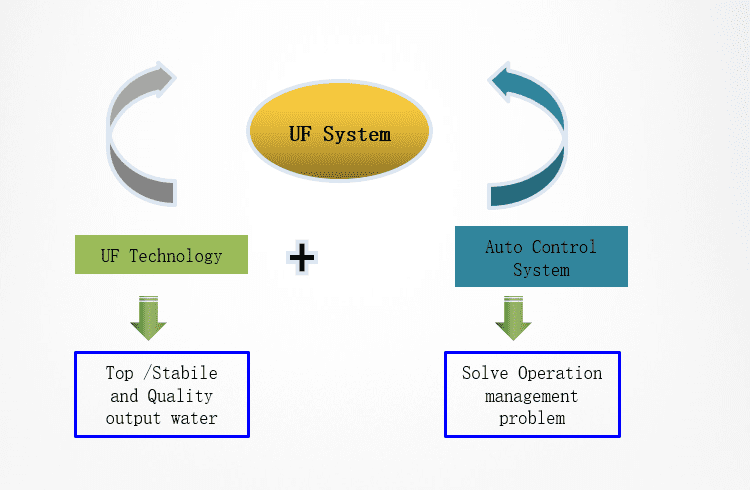 Hinada is the leading manufacturer of packaged UF System in container for portable water making, we can offer according to your project requirement, Hinada can offer professional solution designation, sophisticated installation, good training, and efficient after-sales service according customer's requirements.
Filtration system installation and maintenance goes beyond simply replacing a UF Membrane around every 5-years. Top-quality products that are installed carefully and backed by professional service and expertise should be high on the priority list for you. Look for solutions that simplify maintenance and are backed by a strong warranty and robust customer service
References:
 Potable Water, https://en.wikipedia.org/wiki/Drinking_water
 Potable water treatment process, Water Supplies Department,  https://www.wsd.gov.hk/en/core-businesses/operation-and-maintenance-of-waterworks/water-treatment/index.html#:~:text=During%20the%20water%20treatment%20process,the%20more%20finely%20divided%20particles.
Potable Water Treatment System in Containerized, https://www.hinada.com/product/potable-clean-water-system-in-container-uf-technology/