What is MBR Sewage Treatment Plant?
There are several technologies available for sewage treatment today. We shall be focusing on a new advanced sewage treatment process- MBR technology.
What is the MBR technology?
Membrane Bioreactor or MBR Sewage Treatment Plant is an innovative wastewater treatment method. The MBR PROCESS BENEFITS:
Cost-effective
Fully automated
Minimal maintenance
Easy to operate
Compact footprint
Expandable
How does membrane bioreactor work?
As mentioned before, membrane bioreactor wastewater treatment combines the conventional biological process, i.e., activated sludge, with the membrane filtration technology
Just like the sewage treatment plant, the traditional classical treatment process is Pretreatment ( Bar Screen)—Primary Sedimentation—Anaerobic treatment—-Aerobic tank—-Secondary Sedimentation tank,  and in this treatment process " Sedimentation tank " should be very big and the output water quality not stable because of some Activated sludge will be outflowed together with permeate.  And the MBR Technology use Submerged MBR Membrane replace the big Sedimentation tank, the MLSS (which is the bacterial concentration in the reactor basin ) will be higher, and as the reflux pump designed Q= 2 times of output, from MBR Tank to Anaerobic tank, then whole system treatment efficiency will be higher and output quality will be better.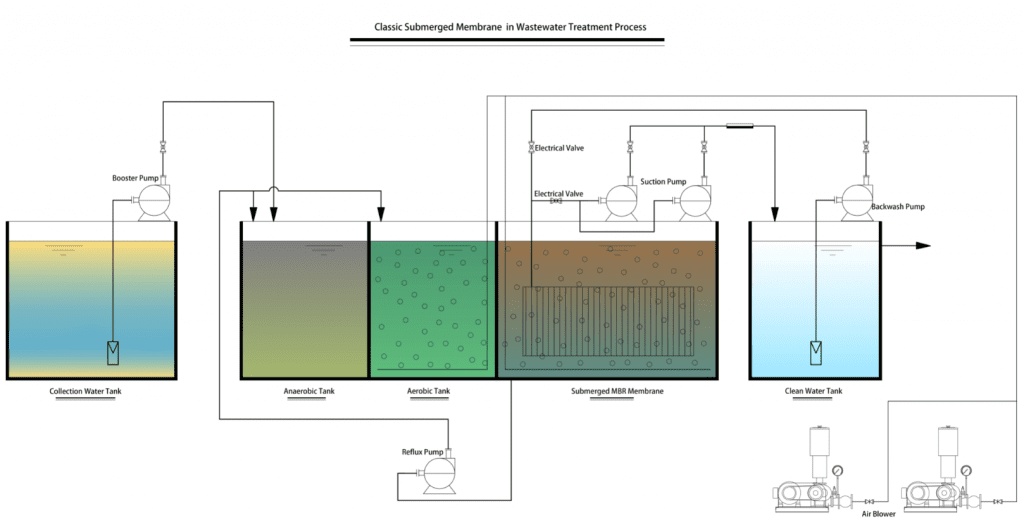 You could say that the membrane bioreactor working principle is all about the ingenious combo of membrane technology and biological treatment. In the MBR technology system, the semi-permeable membranes, which are two-dimensional materials, (micro and ultrafiltration) are submerged in aerated biological reactors. This extent of filtration allows the superior quality of sewage to be drawn through the membranes.
It also aids in the elimination of sedimentation and filtration processes that are commonly used for wastewater treatment. A fine screening or pre-treatment is done before the waste enters the membrane tank. It helps to protect the membrane and extend its life by minimizing the accumulation of solid wastes.
The highlights of our MBR Sewage Treatment Plant are as follows:
Our product features an online backwash system to facilitate smooth operation without any interruptions. It can produce a high caliber of treated water, It is designed to decrease the associated costs and chemical utilization, It does not require a separate settler, clarifier, and polishing units. It is flexible in the sense that it can do both underground and above the ground. It is eco-friendly.
Advantages of MBR:
Exhibit high waste removal efficiency.
Better effluent quality.
Ability to remove several contaminants like bacteria, nitrogen, and other suspended solid wastes.
Occupy less space which means a small footprint.
It produces less volume of sludge.
Disadvantages of Membrane Bioreactors
Maintenance cost could be higher due to membrane replacement, and It requires trained professionals for its operation.

Membrane bioreactors have lots of applications just like:
Automobile industries
Oil & gas companies
Fertilizer & solvent extractors
Iron & steel industries
Pharma industry
Petroleum refinery
Dye & chemicals unit
Pulp & paper industry
Hinada Water Treatment is a well-known MBR sewage treatment plant supplier in China. We offer high-quality and reliable water treatment solutions to our industrial and domestic clients.
Please contact us in case of any queries regarding the MBR sewage treatment plant. We will help you out by providing you the best possible solution.