Landfill leachate treatment solution using activated sludge MBR/Nano/RO Membrane Technology
Leachate is the liquid that drains or 'leaches' from a landfill(landfill: a place where waste is buried in the ground in large amounts, this rubbish dump contains the household daily diposal or factory industry waste with heavy metal ). It varies widely in composition regarding the age of the landfill and the type of waste that it contains. It usually contains both dissolved and suspended material, leachate is highly concentrated wastewater from the biodegraded liquid and rainwater enters the landfill site.
The Characteristics of landfill leachate
Landfill leachate is a foul-smelling black or brown liquid. It contains large amounts of organic and inorganic material, including a number of refractory organics such as aromatic compounds and humus; inorganic salts such as ammoniacal nitrogen, carbonate, and sulfate; and metal ions such as chromium, lead, and copper, it contains high levels of contaminants and, often, biological toxicity..
As a result, chemical oxygen demand (COD) in leachate is typically above 20000 mg/L. Besides toxic aromatic compounds, leachate is also rich in organic macromolecules such as humus and humic acid. Ammoniacal nitrogen concentration above 2000 mg/L is often achieved. This toxic organic matter and these high ammoniacal nitrogen levels cause difficulty during processing, especially for biological treatments. Even in the absence of toxicity, organisms cannot achieve effective microbial degradation because of the large molecular weight and insufficient chemical stability. Therefore, an activated sludge process cannot achieve effective reduction of COD and an advanced treatment process must therefore be developed.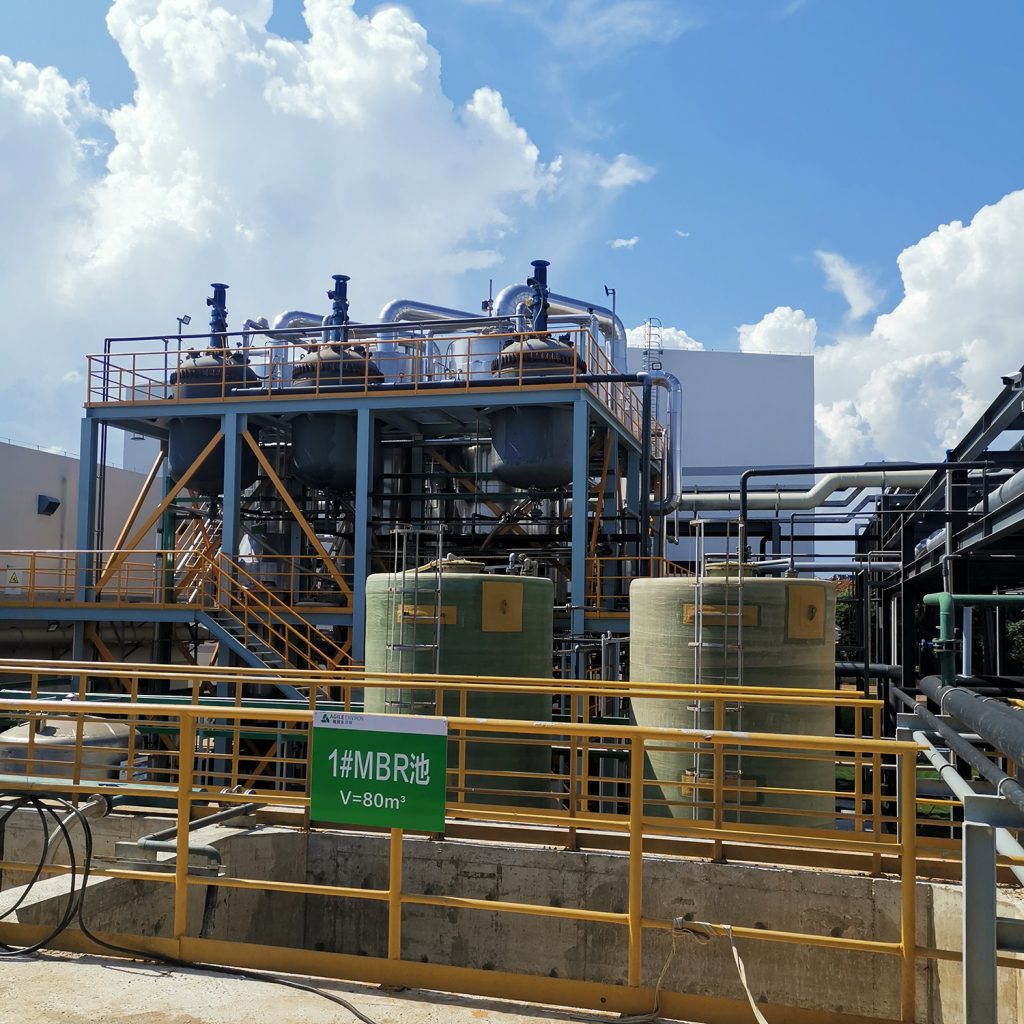 Treating Landfill leachate
The activated sludge process has been found to be a good solution for pretreatment with low processing costs and is now therefore the core biochemical process for leachate treatment, especially for nitrogen removal, it normally has the upflow anaerobic sludge blanket (UASB), the anoxic-oxic (A/O) process, membrane bioreactors (MBR), The later deep treatment technology of leachate further removes organic matter and TN and can include activated carbon adsorption, and membrane treatment processes (Nano filtration, Reverse Osmosis Filtration).
MBR contain a high concentration of sludge and the effluent quality from this process is good. used an anaerobic MBR to process influent that comprised 20% leachate and 80% wastewater COD was observed at 2800–5000 mg/L and COD was reduced by up to 95%. The HRT and organic loading rate of the MBR were two days and 2.5 kg COD/m3·d, respectively. also used an anaerobic MBR to dispose of leachate, observing a COD level at 13000 mg/L and an ammoniacal nitrogen level at 3000 mg/L , The average COD removal rate was 62% while the volumetric loading was 4.87 kg COD/m3·d.