Membrane Bioreactors Application in Food Processing Wastewater
Membrane Bioreactors (MBRs) can be broadly defined as systems integrating biological degradation of waste products with membrane filtration. They have proven quite effective in removing organic and inorganic contaminants as well as biological entities from wastewater. Advantages of the MBR include good control of biological activity, high quality effluent free of bacteria and pathogens, smaller plant size, and higher organic loading rates. Current applications include water recycling in buildings, wastewater treatment for small communities, industrial wastewater treatment, and landfill leachate treatment, all the wastewater project in China, MBR as the vital and basic during the treatment process.
Anaerobic digestion coupled with an aerobic/anoxic membrane bioreactor could be utilized for treating manure and wastewater from livestock operations to levels suitable for direct reuse or safe discharge to surface water bodies. Wastewater generated from industries such as slaughterhouses, meat, dairy, egg, and potato processing and liquor production could potentially be treated with MBRs resulting in compact systems producing high quality reusable water. Also, effective removal of nitrates, herbicides, pesticides, and endocrine disrupting compounds may be achieved by MBRs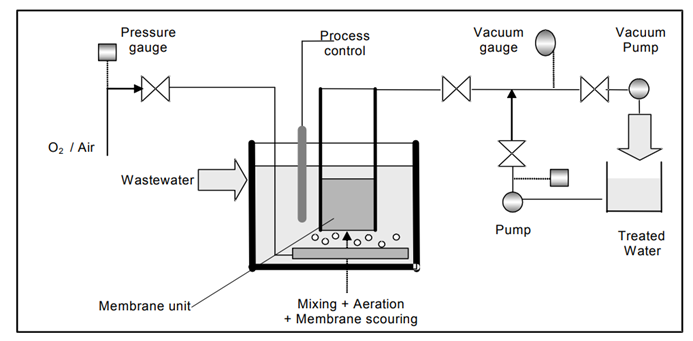 Advantages of the MBR:
include better control of biological activity, effluent that is free of bacteria and pathogens, smaller plant size, and higher organic loading rates.
Cost acceptable and more effective membrane module.
Ever tightening and High-quality water discharge standards
Schematic of integrated submerged MBR Filtration


Most food processing facilities are characterized by very large volume water consumption and high organic strength wastewater generation. Major waterborne pollutant loadings are biological/chemical oxygen demand, total suspended solids, fats-oils-greases, and nutrients. Since MBRs can treat high strength wastewater, attempts were made to evaluate their effectiveness with food processing effluents.
Slaughterhouses Wastewater in Ethiopia Project with capacity 200m3/day.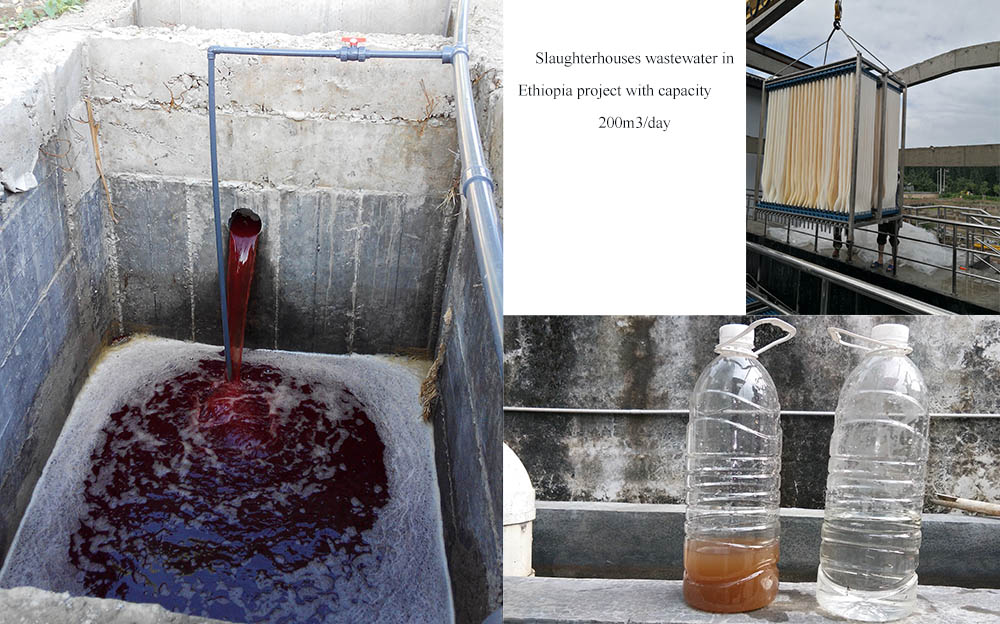 MBR are submerged Hollow fiber Membrane with pore size of 0.06 micron, with Hinada's MBR, reinforced PVDF which makes it very tough in terms of mechnical and chemical strength, this tough membranes are designed to operate in submerged condition and give high output quality of water with minimum Biofouling.
Hinada as the leading manufacturer of MBR Membrane since 2012, provides the high quality MBR is our lifetime striving, any inquiry just contact with us