80m³/Day Containerized Sewage Treatment System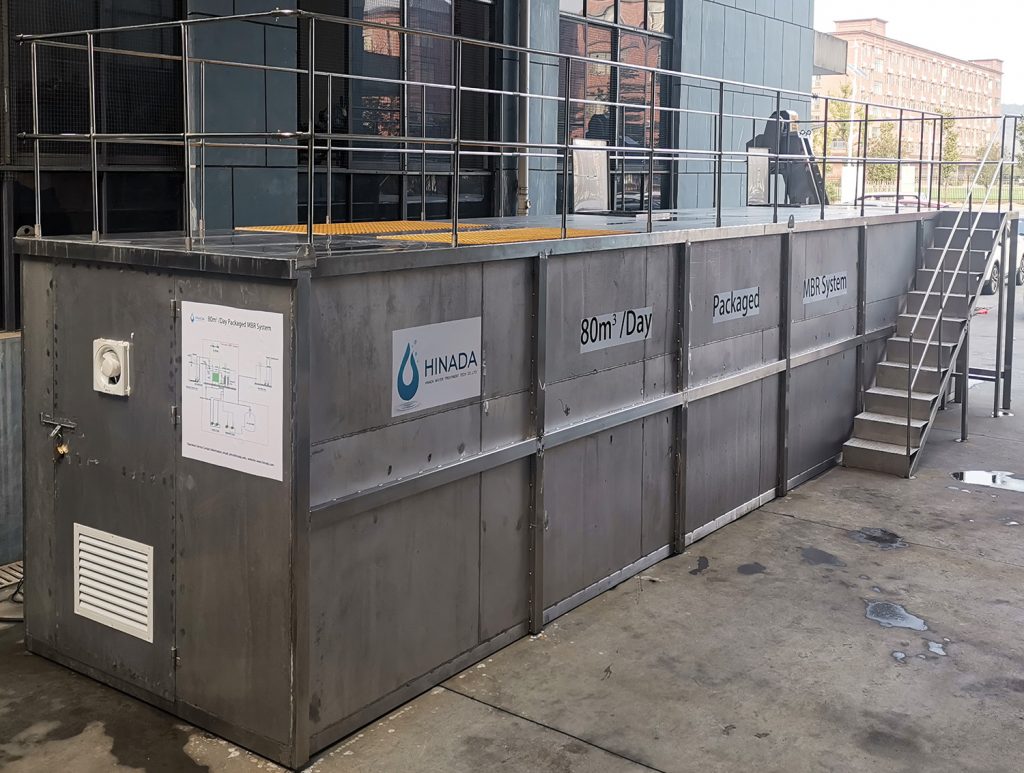 Project background (Export to Fiji Island )
1). Input water quality: Domestic residual Sewage wastewater for irrigation purpose or discharge.
2). This packaged wastewater system in container no included the septic tank, oil separator, collection wastewater tank, clean water tank
3) The designed average capacity will be 80m³/Day, peak capacity less than around:100m³/day, 24hours working per day, because of MBR interval working feature, the calculation flow rate as 4m³/hour
 Treatment Process
Collection water tank (Equalization tank), are designed to buffer flows with variations in influent flow due to diurnal variation and wet weather events. Mixing is required in these basins to maintain solids in suspension, preventing deposition and equalizing load to the treatment plant. it's an adjusting water tank, mix the input sewage, adjust the PH & make sure input water supplied (quality and quantity) stable.Mechanical Bar screen, is a mechanical filter used to remove large objects, such as rags and plastics, from wastewater. It is part of the primary filtration flow and is the first, or preliminary, level of filtration, being installed before the influent enter the packaged MBR System.Anaerobic tank which the digestion is a sequence of processes by which microorganisms break down biodegradable material in the absence of oxygen, There are four key stages of anaerobic digestion involve hydrolysis, acidogenesis, acetogenesis and methanogenesis, and the main function is removed the Nitrogen and bacteria, that low down the BOD.Aeration tank, the process involves air or oxygen being introduced into a mixture of screened, and primary treated sewage or industrial wastewater (wastewater) combined with organisms to develop a biological flock which reduces the organic content of the sewage. The main function is removing the nitrifying bacteria and phosphorus bacteria, and low down the COD& BODMBR Membrane System is separating the clean water from the sewage.Clean water tank, for the output clean water, customer supplied

This Main equipment parts of 80m³/Day Containerized Sewage Treatment System:
Mobile STP Tank in container with SUS304 Material
Suction Pump: Setting running 420 seconds stop 60-seconds
Backwash Pump: Setting Interval 300 minutes Backwash 5-minutes
CIP Cleaning: Setting Interval 5 days (7200 minutes) running 30 minutes
Submersible Pump A / B: set every 2 hours (120 Minutes) Swap working
Suction Pump A / B: set every 2 hours (120 Minutes) Swap working
Backwash Pump A / B: set every 2 hours (120 Minutes) Swap working
Air Blower A / B: set every 2 hours (120 Minutes) Swap working
1#Reflux Pump Interval 60 minutes working 60 minutes
2#Reflux Pump Interval 60 minutes working 60 minutes
Submersible Mixer Interval 60 minutes working 60 minutes
Grille (Mechanical Bar Screen) Interval 60 minutes working 60 minutes
The Video linkaged of this MBR System:  https://www.hinada.com/80klpd-compact-mbr-system-in-container-for-wastewater-treatment-video/
The advantages of mobile MBR wastewater plant:
 Cost savings,  it's especially for small capacity project.
 Moveable and Less Constructuion works
 High Quality, Assembly it according to ISO standard and with quality parts
 Fully automatic, easy operation and management
 Everything from one source provider
Customerized wastewater treatment plant, according to your project requirement.
The Benifits of Containerized MBR Plant:
* System operates at a low pressure
* Removes bacteria and viruses
* Keeps essential minerals in water
* Installs quickly and easily
* Does not generate waste water
* An ultrafiltration system is eco-friendly. Ultrafiltration has a 90-95% recovery rate and can be used to treat wastewater for reuse. Using a home ultrafiltration water system benefits the environment by reducing the amount of plastic water bottles discarded in landfills.