Seawater Desalination RO Machine
Hinada is the professional manufacturer of water treatment equipment, we can offer professional solution designation, sophisticated installation, good training and efficient after-sales service according customer's requirements
Scope of Our Offer:
* Process design of the whole seawater reverse osmosis system
* Supply the completely RO plant
* Installation service
* Commissioning
* After-sales service
Give us your project capacity requirement and seawater TDS test report, we will offer your good optional.
GET PRICING
Download 300 m3/D Quotation
Seawater RO System Includes :
* Feed water pump
* Pretreatment filter ( multi-media filter)
* Cartridge filter
* CIP clean system
* High pressure pump
* RO membrane
The Seawater Desalination RO Machine treatment process: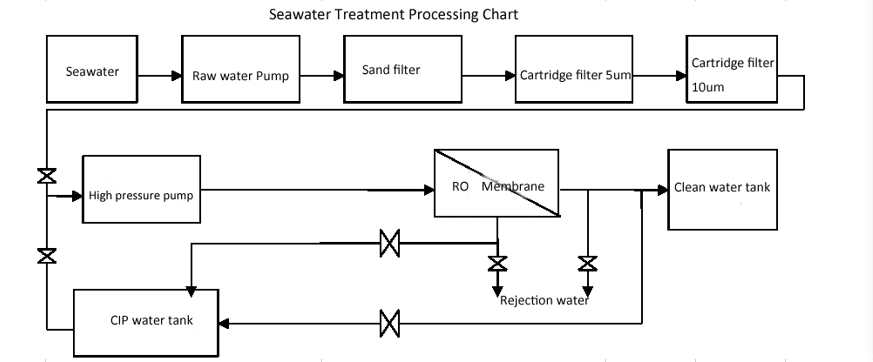 Application
Seawater desalination ro systems is designed to convert seawater ( high TDS saline content) to drinking water, these systems use high quality RO reverse osmosis seawater desalination membranes.  These systems use our proven technology to give reliable performance and meet the demanding requirements of the marine environment.
From seawater makers to drinking water, we offer a few range of Seawater Desalination Reverse Osmosis Systems—-Compact seawater maker and Commercial Seawater RO system.
Benifits
* Process design of the whole seawater reverse osmosis system
* Supply the completely RO plant
* Installation service
* Commissioning
* After-sales service
 Package
Seawater Desalination RO Machine will be packaged in plywood case according to requirement.
Our Service
We are the manufacturer of UF Membrane and Water equipment.
We will Process design of the whole seawater reverse osmosis system
* Supply the completely RO plant
* Installation service
* Commissioning
* After-sales service
Seawater RO System Includes :
* Feed water pump
* Pretreatment filter ( multi-media filter)
* Cartridge filter
* CIP clean system
* High pressure pump
* RO membrane

The Seawater Desalination RO Machine treatment process:

Application

Seawater desalination ro systems is designed to convert seawater ( high TDS saline content) to drinking water, these systems use high quality RO reverse osmosis seawater desalination membranes.  These systems use our proven technology to give reliable performance and meet the demanding requirements of the marine environment.

From seawater makers to drinking water, we offer a few range of Seawater Desalination Reverse Osmosis Systems—-Compact seawater maker and Commercial Seawater RO system.

Benifits

* Process design of the whole seawater reverse osmosis system
* Supply the completely RO plant
* Installation service
* Commissioning
* After-sales service

 Package

Seawater Desalination RO Machine will be packaged in plywood case according to requirement.

Our Service

We are the manufacturer of UF Membrane and Water equipment.

We will Process design of the whole seawater reverse osmosis system
* Supply the completely RO plant
* Installation service
* Commissioning
* After-sales service